The Last Journey of Ninoy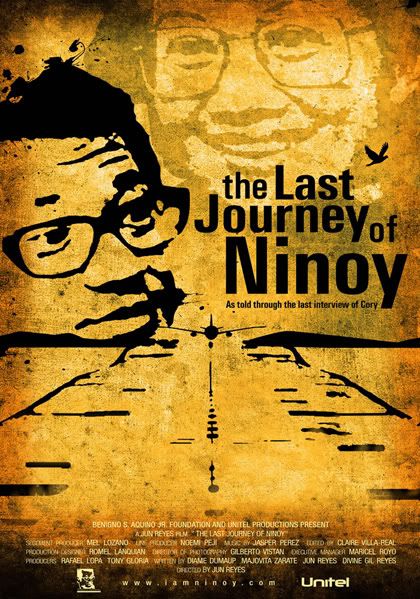 August 21, 1983 – Twenty-six years ago in the tarmac of then-newly built Manila International Airport Terminal (now NAIA Terminal-1), blood was spilt in Philippine soil. Senator Benigno "Ninoy" Aquino Jr. was shot dead by unknown assailants, probably that of the presidency of the dictator Ferdinand Marcos. The death of the opposition leader shook the Philippine consciousness that led to the dismantling of twenty years of oppressive rule that became one of the world's most remarkable and inspiring People Power revolt of 1986.
"The Last Journey of Ninoy" is a docu-drama, produced by Unitel and Benigno S Aquino Jr Foundation and directed by critically acclaimed Jun Reyes, traces Ninoy's own Via Dolorosa from Boston in United States heading back to the Philippines. With stops in the journey, it is intertwined with the life story of Ninoy, from being a talented journalist, to a politician, from his victories and struggles of life and of his family, and the resolute spirit of fighting for what the Filipinos should have…freedom.
Bam Aquino portrays as his uncle Ninoy (Courtesy of Unitel)
Actual archival photos, videos and audio clips together with the docu-drama's present clips, were used in this film. The narrative of Ninoy and Cory became the voices of the motion picture and some things that our schools have never thought about Ninoy were given emphasis.
The movie also showed the last interview of any media with Cory.
The aim of the producers is to bring out the "Ninoy in us." Sounds familiar? Yes, it is also part of the Foundation's "I am Ninoy" campaign to give awareness of heroism and taking part in our country's society to the younger generation whom they only know Ninoy as the guy in the 500-peso bill. It is one way to create understanding that we young Pinoys have something to do for our country in order to move forward…there is always hope in the Filipino nation.
The "Last Journey of Ninoy" will be shown at ABS-CBN on Sunday, 23rd of August at 9:30PM on Sunday's Best, with replays that will be shown on ANC.
At Gate 13 of Manila International Airport, one afternoon of August 1983, Ninoy indeed has shown to the world, that the "Filipino is Worth Dying For."